Background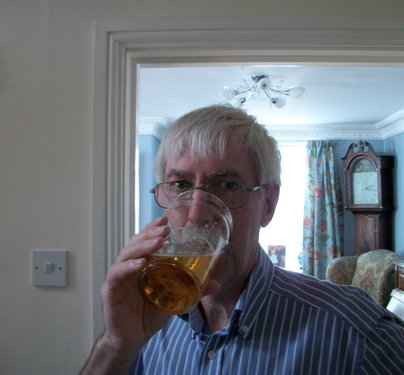 I confess that Tangled Roots Music is a fairly cheesy title, but it really does neatly sum up what lies behind the production of NEW SONGS FOR OLD. I have reached the advanced stage in life when my bus-pass sees the light of day more often than my debit card (well, it would if we had buses where I live!), and this means that all sorts of influences and memories have blended themselves into a maelstrom of words, themes and tunes, from which – every now and then – emerges a song.
Being a teenager in the 1960s, I was swept up in the so-called Folk Revival of that decade, and, looking back, it really was an extraordinary time for acoustic musicians. Although there was only one television channel (soon to become known as BBC 1), it regularly featured what was then considered by many to be folk music, with performers such as The Spinners (sorry, but it's true!), The Ian Campbell Folk Group (top of the bill at the first folk concert I went to in 1964), The Corrie Folk Trio and Paddie Bell, Robin Hall and Jimmy McGregor, Sydney Carter and many more, regularly appearing on the 'haunted fish tank', and then there was the constant appearance of our cousins from across the water, in the shape of the Kingston Trio, Burl Ives, The Weavers, etc. Interesting(?) as all of these performers were, I soon discovered that the real Folk Revival was going on in the myriad of folk clubs to be found in every town in the UK, long before Folk Rock assaulted the nation's ears.
I was born and brought up in Stockton-on-Tees, County Durham. Sixty years ago, it was still a vibrant town with that winning combination of history and very nearly full employment given the many heavy industries still thriving then. Yes, it was a rough old spot if you happened to be in the wrong place at the wrong time, but, in general, it was a lot safer than most of our towns and cities nowadays. Folk music hit Teesside in a big way. I believe that there was a folk club to go to every night of the week within a single bus journey, and I have no reason to think that this wasn't the case. I think I went to nearly all of the clubs, but not in one week – pocket money didn't take you far in those days! Inevitably, I made my way to the nearest club in town, making my performing debut in a smoke-filled social club off Yarm Road, after a very illegally purchased rum and black, as I had heard that this drink was really good for the throat! Not too long after this, the club moved to the upstairs room at the Stork and Castle, and this is where I learnt my trade. The club was run by the Teesside Fettlers (still going, I believe), and was very popular. I think there must have been well over a hundred folk in attendance every week, and they were good times – particularly the parties at the weekend afterwards!
At university in the late '60s, the generosity of the Students' Union meant that the Folk Club could attract top acts, but many of them still finished up the evening having to sleep in our respective student digs – poor things! Carthy and Swarbrick were always well received, as were the likes of Nic Jones and Martyn Wyndham-Read. There was a good collection of fellow singers and players at Nottingham University, and I spent a lot of time working with one Jim Younger, then a fine concertina player, now a multi-instrumentalist and acclaimed author.

During the void (let's call it a late gap year!) that followed the end of university, we considered 'hitting the road' as a career, but I am pleased to say that an unsuspecting public was spared this phenomenon, although Jim did go on the road for a few years, accompanying various singers/musicians including Seamus Ennis and Shirley Collins. Such is the small world of folk music that Jim and my son, Rob, have played together on several occasions.
I carried on singing and playing until the mid-1970s, when I am afraid 'real life' started to take up all of my spare time. Although the guitar came out of the case from time to time during the 1980s, I wasn't part of any folk scene, and wasn't really aware of what was going on elsewhere in the country. I did listen to Jim Lloyd on the radio from time to time, but not with any great enthusiasm, given his, shall we say, rather eclectic choice of music. (Did anyone else apart from Jim Lloyd like Johnny Silvo?)
Meanwhile, young Rob was growing up, and beginning to show signs of being a promising musician. Initially, he was a violinist, then bassoonist in local youth orchestras, but, when he should have been rehearsing for an important violin exam, he spent a lot of his time playing my grandfather's Lachenal English concertina, and rather rapid progress he made on it. By this time, he was already involved with the wonderful Folkworks (then an entirely separate organisation from The Sage, Gateshead), and suddenly I found myself back within folk culture – albeit more in the role of chauffeur than top-line performer – and finding that it hadn't really changed much since I had left it, apart from the plethora of seriously good young musicians. I can't speak highly enough of the achievements of Folkworks in its early years, and it was wonderful to see the way it inspired scores of young – and not so young – people to sing, play and/or dance. When Rob was in the VIth Form, Folkworks approached every university in England to see if any music department offered an emphasis on traditional music, and the blank sheet it acquired as a result of this exercise was instrumental (sic!) in the setting up of the Folk Music degree course at Newcastle University.
Having dusted the guitar down in the 1990s, I haven't really let it gather dust again, although since Rob left home, most of my 'performances' have been in the regular small-scale sessions held locally here in North Cumberland. I have always tried to expand my repertoire (so to speak), as even the best of songs can become a little tedious if sung every week, and realised that one way to do this would be to write my own material. (I am a slow learner.) Listeners may well discern influences in the songs, but I would like to think that they are not obvious ones, as I am not conscious of being a sound-alike of any other writer.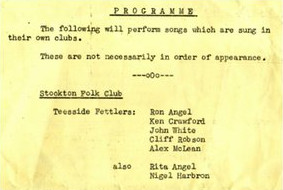 The above is part of a programme for the Folk Centre Teesside Concert, held at The Little Theatre, Middlesbrough, in 1965 (I think). This was my first (and last!) big venue solo appearance, with over 400 people in the audience. I sang Fourpence a Day and the first version of Robert Ellwood (see SONG SHEETS).
Interestingly, one Vin Garbet (sic) performed at the concert, representing Stockton King's Head Folk Club. Such was my intimate knowledge of the local folk scene, I didn't know either Vin or The King's Head!